Sorry I haven't been writing often. We're on the last 6 weeks of this really long move. I'm not only trying to stage this house for my parents to get it on the market, I'm also trying to make it through the final 6 weeks of school when we're a little behind.
I thought I'd stop by and share the finished den area with you. I only spent about $25 on it since I had all but the rug and mirror--and I bought those at a thrift store.
Before:
After Staging:


A Low Revenue House:
Some people spend thousands of dollars staging a house for market, but when the house for sale is a third of what an average house costs these days, you don't have thousands to spare. So, what do you do?
Most of the time you stage it yourself. So, here's a few goals to keep in mind.
1. Choose the best feature in the room and tie everything to it. In my parent's den it was this gorgeous stove and brick back-lay. We arranged the furniture in such a way to highlight it's beauty, and that in turn dims some of the other not-so-pretty features.
2. Use as much light as possible. My parents had a family friend come and repair the lighting in this room which made a huge difference. Then, the use of reflectives and lamps helped bounce that light around. Features that aren't your favorite, like these wood panel walls, can look a whole lot better with a little light. (My parents cleaned them spotless to make sure they didn't reflect dust!)
3. Choose furniture that makes the room flow nicely. This may not be your nicest furniture, either. My brand new leather couches would have overwhelmed this room, blocked the stove, and made the room look horribly dark. I chose my antique, low-lying furniture for it's lightness and square edges (that mimic the edge of the red brick).
4. Add some warmth and coziness to the space. A $10 thrift store rug and some flower arrangements I already had, brought the room to life. You don't need to hide the flaws--they're going to see them anyway. What you want is to sell home, warmth, and livability. You want them talking about the way they could fit their den furniture in here, instead of guessing that this room could be used as extra space to store stuff. You want them falling in love with the fireplace and the thoughts of Christmas's future with family around it, not the inevitability of a new floor. Sell that life can happen IN THIS house right now! You can be comfortable as soon as you move in, even if you do want to replace the floors and paint the walls.
5. Use your very best! I packed almost all of my stuff in storage for this move, but I kept out my best decor for this project. Don't make the mistake of decorating to match what "starter" families will have on hand to decorate. Don't think, 'well they're not going to have nice paintings, so I may not want to "overdo" the space'. First of all, you never know. Second of all, sure--most people looking here are looking for a starter home--but they have dreams, too. Show them the home's potential. Sure, you may not have all this starting out, but you can do this! A nice mirror here, a bouquet of flowers there, and a warm rug and you can have HOME right now. You don't have to wait until you have three kids and move to a nice suburb to have the life you want. You can make this your home.
6. It's more about a feeling than about walls and floors. It's nice when you have the money available to paint all the walls (if you do, it's really important to do this) and to re floor anything that needs it. My parents were able to paint the non-paneled walls and had new carpet put in the bedrooms. They also put a nice wood-like floor in the halls and living room. This went a long way, but then the budget money ran out. Any more, and they weren't making what they needed.
But, remember when this happens, that a home is not about walls and floors. It's about family! Think about what every family needs to feel at home. A clean kitchen, an uncluttered space, a comfy and clean place to sit around and chat, a kitchen table to eat around, a clean and crisp bathroom that smells nice, and a cozy bed to climb into at the end of the day. Focus your attention on these and you have it made! Create these spaces to the best of your ability. Tell a story through your furniture.
What do I mean by tell a story? I mean, show them how they could live while they're here. Look here in the den. See, that hutch fits nicely by the stove and we can all sit around relaxing together in any weather. In the mornings the kids could eat their cereal and still see the cartoons before heading off to school. In the evenings I could cook and still be able to chat with the family as they sit at the table with homework. Oh, and this little bedroom would be the perfect office space and later we could use it as a nursery. Show them through furniture and decor placement how they could use this house to their advantage. Help them see it as a home, with life and food and help them hear the chatter around the fireplace and the smells of a nice candle going in the master bedroom. Help them to FEEL at home here.
7. Ignore what you can't change. Oh yes, you change what you can, but then let it go. Don't try and find a way to camouflage the air unit sticking through the wall. Just ignore it and likely they will too. My dad reminded me when I tried to hide the window unit in the master that everyone in this neighborhood was likely to have one.
Well, that's it. That's what I did with this room. And I'll try and have more pictures up of other spaces soon.
Linking Up to some wonderful blogs: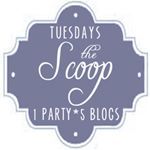 A Bowl Full of Lemons