I'm absolutely astounded with how far God has brought our family in the last few years (like 6). I want to be an encouragement to those still struggling through what I've waded through, just as those bloggers have been to me that are such an inspiration.
Sometimes, when I read blogs with all the great home pictures of decorated rooms and clean kitchens, I imagine that they've always lived like that. Ya know, as if that mom was just born to be a miracle worker of clean bathrooms, painted walls, and tidy children. (I'm still sure some of them were, lol). But...some of us struggle to make our houses into homes and that's WHY we blog about these things...to have a place of accountability, to journal about our progress, and to encourage other women who are where we were a few years back.
The other day I was looking through my pictures, as I take SO MANY, and found a few that made me cry. I don't mean tear up a little, either. I mean I was bawling. Let me just show you a few.
I was babysitting at that time in my life, and some of these pictures had the child I was watching running around. The first thing that popped in my mind...before I really thought about it being my house...was, what kind of mom would let their child go there (to be watched daily).
I was shocked by the realization!
It was MY house and I allowed it to stay that way a lot.
And when I thought about my children living in that house day in and day out, I cried. I had a flop-down-on-my-bed-buried-in-my-pillow cry.
The thing is, I'm still a mess. I still struggle to get my laundry done and I still hate doing dishes...but the improvement is night and day.
I've been praying about my home and my role as mother and wife for as long as I can remember. And ya know what? I didn't read one particular book that gave me an ah-ha moment, and I didn't have anyone come to my house and teach me, and I never found extra energy miraculously making daily cleaning easier. It was God. That's the only answer I have. In tiny, almost unnoticeable stages, HE has brought me from there to here.
Here is my new home:
All I can say through tears and gladness and amazement, is that God HAS changed me. He's not finished with me yet...believe me, there's a long way for this Mama to go, but I have changed.
What about those still in the thick of it?
Honey, I still consider myself in the thick of it...my home just looks way better now. But, I know what you mean. What about when you still live in that little apartment or rental that you don't even like, maybe hate, and you want so badly to have a nice home?
First, pray a whole lot!
God is the only one who can take you from where you are to where you want to be without tearing a hole in your finances and ruining your life. Trust that God is working on YOU rather than just your home. Ask him to reveal to you what he's trying to teach you and that you will be open to learning.
I had a contentment issue with my home. It made me mad that "everyone else" could wave their credit cards in front of a cash register and magically decorate faster than me. It was also disheartening that when we made the decision that I would stay home to raise and teach our children, that other families with two incomes were moving up far faster than we were.
It took a whole lot of God working on my heart to accept wherever I was as my place to minister to my family. I worked through a lot of bitterness and jealousy to make it to the other side. And, ya know what, my circumstances didn't change much at all until God was satisfied with how far I had come in my thinking. By the time we moved out of that town home, I had accepted that it could be my permanent home and that if I wanted to have a happy family in it, I would have to start working on it.
Second, get your hands busy.
I realize through the years that most of the improvement that happened was absolutely free! It was de-junking my home, organizing what was left, and cleaning up that truly made the biggest difference. I still hadn't learned this in the pictures above. Those were great pictures to show the progress we made, but it got back to a big mess quickly and stayed that way for long periods of time. I always prioritized other stuff ahead of cleaning up and it showed. I knew how to clean, but I actually had to do it regularly to make a difference to my family. I'm still learning this one, but I've come a long way.
Third, do projects that give you big bang for your buck. Paint is incredibly cheap if you keep the supplies from one project to another. Painting is hard work but has really fabulous results and last a really long time. Almost everything I've decorated with over the years came from thrift stores or antique shops. It's amazing what you can find if you're determined to look.
And let people in on what you need. Somewhere someone is looking for that one person that will haul off their dining room table. These kind of HUGE blessings are how I've obtained about half of my furniture...and in return, when I'm ready to get rid of something, I give it away, too.

Fourth, realize that your home and YOU are works in progress! There's never a time I've reached where I've said, "Wow...I'm done," and really been finished. You will always have another wall to paint, another drawer to clean out, another load of dishes or laundry to do, and a new way to organize your bookshelves. When I started blogging, I figured I would come to the end of my house and the blog would be over. Good news! I've realized that I could blog about my house and home until I'm old and grey. No problem.
And God's not done with ME yet either! I still have so much to learn and so many disciplines to train myself into. But, isn't that a GOOD thing? I think so.

-Tabitha
Linking Up at these amazing blogs: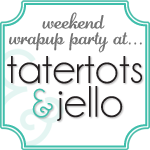 A Slob Comes Clean